SAVON APPLIANCE | 818.843.4840 | 2925 Burbank Blvd. Burbank, CA 91505

Stop looking around - you have found THE SOURCE for fully restored, classic gas stoves, featuring 1940's and 1950's era Wedgewood and O'Keefe & Merrits! These photos are of actual stoves we have found, purchased and restored, some currently sitting in our showroom waiting to be shipped to their new owner - and that owner can be YOU! Click through our photos (and view the full-size enlargements), read the descriptions, and give us a call if you see one you love (we can also restore your vintage classic, take it in trade, or buy it outright - call). Because of the high demand and one-of-a-kind quality of our inventory, it sells quickly, so be sure to call us for our latest inventory. We can email photos to you if we have something you are interested in! We can help you with shipping almost anywhere.
They don't make 'em like this anymore!
Colors may very depending on browser settings , monitor, etc.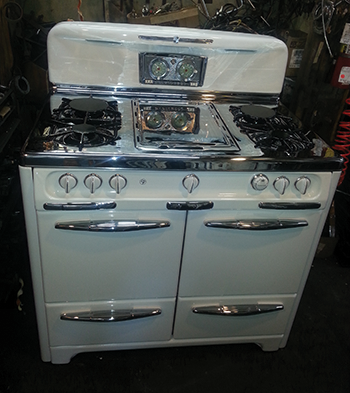 click image to enlarge
1950 Wedgewood Single Oven High Broiler