Okeefe and Merritt Ranges
Wedgewood Stoves
Gaffers & Sattler
Merritt
OKeefe
US Range
Viking
Wolff
SHOWCASE
Many of the appliances and furniture we have restored are truly one-of-a-kind, museum-quality pieces. Not all of our restorations are of this caliber, or are this detailed, but if you have a truly special piece you can trust us to restore it to its original beauty - or improve on its original condition!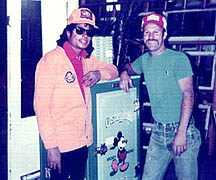 Michael Jackson admiring his fully restored Mickey


35 inch baby bue single oven and pate warmer/storage

36 inch Yellow Wedgewood with shelf and a 24 inch vintage 1 door refer

21 inch oKeefe & Merritt

21 inch wedgewood orig porcline
Savon Appliance
2925 Burbank Blvd.
Burbank, CA 91505
phone: 818-843-4840 or 818-843-4908
email:
appliance2925@aol.com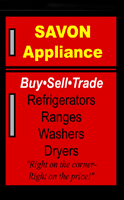 Testimonials

Hi, The stove arrived tonight after dark and it is so beautiful. There was 5 other people here (friends and neighbors) and they were in awe. RH
Occasionally I am stunned when I find a business where the proprietor was on hand, knew the business and product in and out, told the absolute truth and was looking out for the consumer.! - Janet A North Hollywood, CA
Talk about amazing customer service and really caring person to person instead of just the $$. So nice & refreshing. Also, my Mom bought a stove from them about 8 years ago and they have taken care of that too, still working beautifully for her. I highly recommend them, really amazing. Ashley B
QUICK NOTE